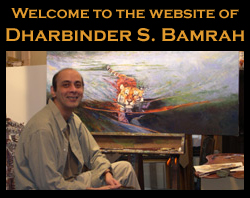 DHARBINDER'S WEB SITE UP DATE 02/10/08
Dear Friends, Collectors and Visitors,
It is very difficult for me to find the right words to share recent events with you. So I am going to quote, Mariam Diehl, the owner of Meyer-Milagros Gallery, Jackson Hole, WY.
"It is with great sadness and heavy hearts that we write to inform you that Dharbinder S. Bamrah, one of the world's finest wildlife painters, passed away on the morning of Dec. 29th, 2007. His passing represents a great loss to the art world."
Dharbinder is greatly missed by all who were lucky enough to know him.
If you have any questions about any of his work please contact me through this web site.
Thank you to all who have sent condolences… and I, in return, am very sorry for your loss.
Valerie Aune-Bamrah